Indias 1st Book on E-Rickshaw author Mr. Dinesh Goyal, Director Bahubali E-Rickshaw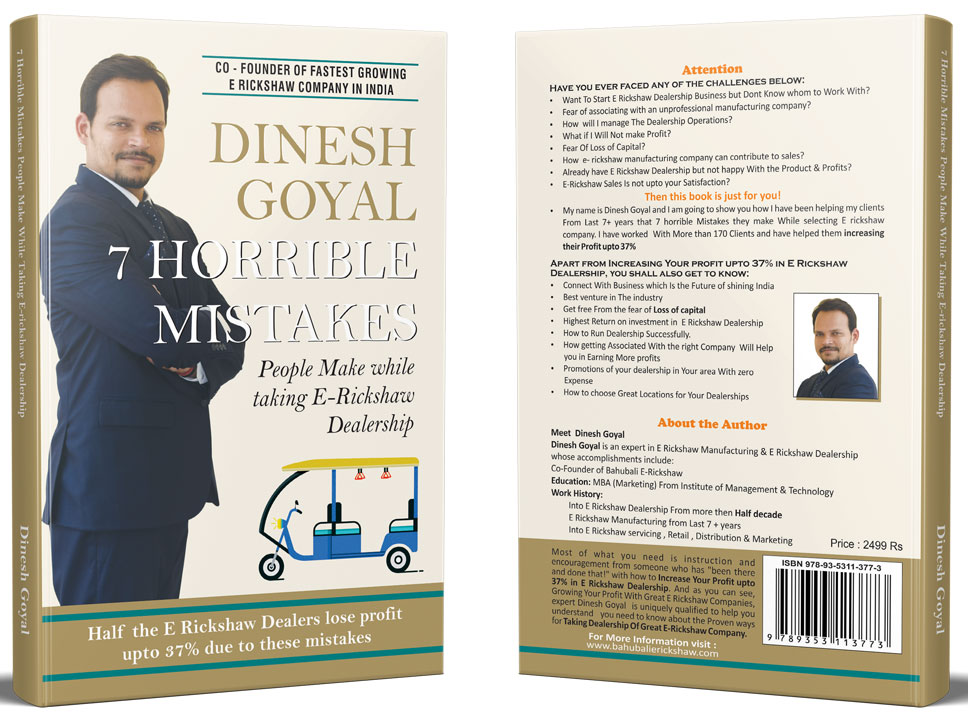 Dinesh Goyal - Co founder of fastest growing e rickshaw company.
This is the first book on E rickshaw in India
I have 7 years of experience in e-rickshaw industry and I want to share my experience with those who are looking for dealerships and prove that this book well help them to discover 7 horrible mistakes people make while taking e rickshaw dealership.
When I have started my e-rickshaw business I had faced lots of problem & finally reached the position that I am on right now. After doing several mistakes I came to understand whosoever enter into e rickshaw segment do several mistakes, waste their time and not make enough profit. I have already made those mistakes and don't want anyone to repeat those mistakes again & waste their time, money & efforts.
So this book is for those who are into e rickshaw dealership and for those who want to take a rickshaw dealership right now. As per estimate there are 9000 dealers across India and within next 3 years the number is going to be around 45000.
As there is mission of Government of India to make all vehicles electric by 2030, this one product e rickshaw will be going to lead this transition.
As for right now there is no proper information available for those who are entering into e rickshaw so this book will single-handedly give answers to all the questions for up coming dealers in e rickshaw industry.
This book also has special sales secrets of how to increase sales in the existing e rickshaw dealership setups.
I am sure this book if implemented properly will help to increase profit by 37%...